$62.00 Autozone semi-cold air intake (Pic)
I don't know about you guys, but there's no way I'm spending $250+ for a cold air intake - so I have been doing some fairly in-depth experimentation with.... gulp, intake parts from Autozone.
Yes, Autozone. Backstory: When I first started modifying SR20's, back in the late 90's when I was a teenager, you could only get things like this thru special companies (Place Racing, Hotshot). At general auto parts stores like Autozone there were absolutely NO intake parts available that you could put together yourself (but they always seemed to have intakes for Ford & Chevy of course).
Now in the year 2012, these parts are available everywhere. I have found their parts to be of decent quality and priced reasonably. So I put together the little photo below for those of you guys on a budget. The only thing this does not address is replacing the OEM intake pipe that leads from the MAF to the throttle body - that would require drilling and or some type of fabrication with a similar pipe.
These "Spectre" intake pipes come in varying angles. 90, 65, 45, 22, and 0 degrees (straight). In this particular setup I used:
-(1) 22 degree elbow, part # 8728 - $12.99 (comes with 1 connector clamp)
-(1) 45 degree elbow, part # 8738 - $12.99 (comes with 1 connector clamp)
-(1) coupler (comes with 2 clamps) part # 8771 - $7.99
-As for the air filter itself, you can buy the cheaper one which is a bit smaller at $19.99 or the slightly larger one that is $24.99 (which I have). Both come with 1 hose clamp and inserts for 3", 3.5" and 4" pipes. With this system you use the 3".
-(1) MAF adapter (not pictured) part # 8148 - $4.99 - this will allow you to attach the rubber coupler at the top left in the photo below to the stock MAF sensor.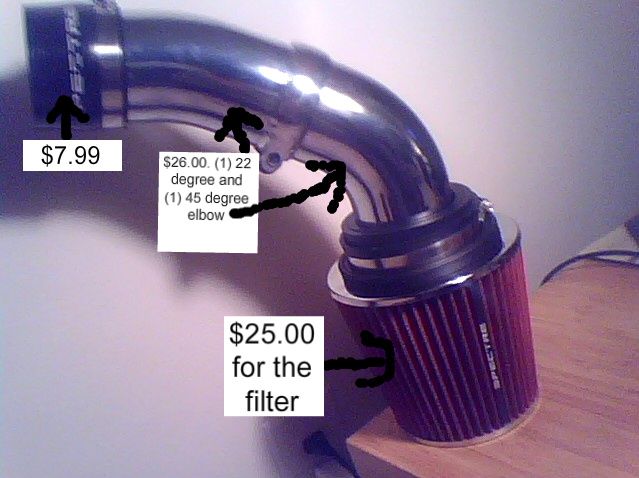 This setup works well in my '91 SE-R right now. I previously had one of those enormous K&N cone filters hooked up directly to the MAF but we know that cold air is better (7-8HP in places over the short ram intake in dyno charts).
This setup puts the air filter right near the left front fender, and I plan on getting another extension pipe, probably another 22 degree elbow to extend the air filter further into the fender well for more cold air. So it would then be a $75 true cold air intake.
Hope this helps anyone who is on a budget and frequents Autozone
EDIT: I added a 60 degree elbow to the project, part # 86680 - this goes between the filter itself and the 45 degree part and extends the air filter into the fenderwell, making it a full cold air intake, but also bumps the price to around $74.00 total
UPDATE ON PAGE 3, but for those of you who don't feel like going there, here's the post:
Driving impressions:
LOUD. Much louder. I had experimented just the standard short-ram warm air intake, running that with a few extra pipes down with the filter sitting to the side of the battery, running just a pipe with no air filter down near the hole created for the filter (just for a few miles to test it) and now with the air filter fully "submerged" behind the bumper in the inner fender well. I have to say that this setup seems to be the best, it sounds great (but only when you "get on it" - and although I have not run official dyno tests, it def feels to have more power especially midrange, between 5000 and 6500 RPMS. I have the JDM 10:1 SR20DE, but with stock cams, Hotshot header, and custom exhaust (although a somewhat restrictive muffler, though it sounds good) and I think the engine in it's current state begins to run out of breath past 6600RPMS. I believe the JWT S4 cams and JWT ECU would make a world of difference. I also believe the ignition timing is set only around 12 degrees which I haven't gotten around to advancing.