EGR Delete information
It seems this question is asked WAY too often, so I thought I would compile what information I am aware of to make it easier to find the info a person is looking for in regards to deleting their egr system, reattaching it, upgrading header, rerouting vaccum lines, etc.
Nissan's plug:
nissan part number 14052-21R00
called a 'plug taper'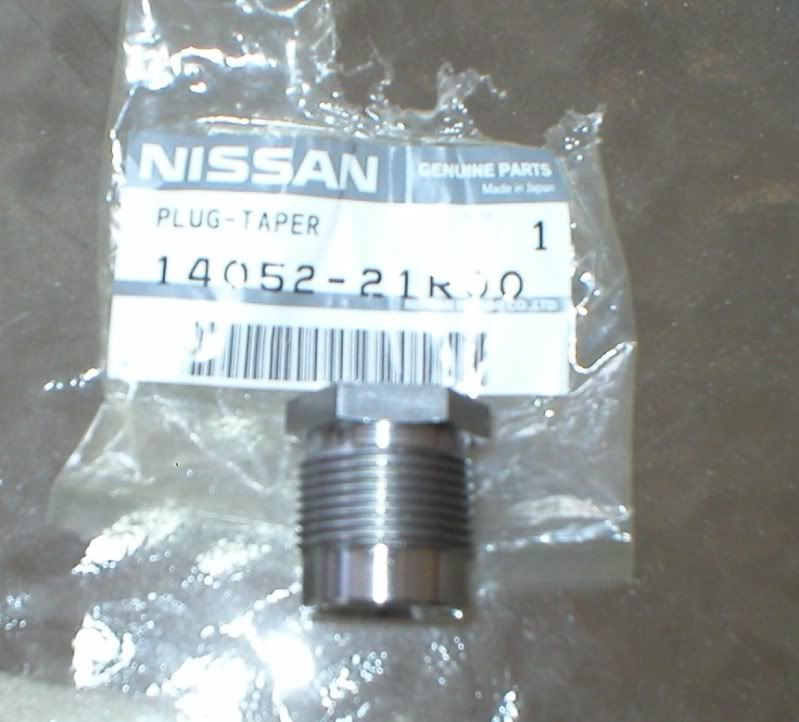 Nissport's plug kit along with blockoff plates
highport:
NISsport EGR Blockoff Kit with Gaskets for High Port SR20DE
lowport:
NISsport EGR Blockoff Kit with Gaskets for Low Port SR20DE
Information on EGR Delete:
Leaving EGR open?? - SR20 Forum
OBD2 egr delete info
*
MAKE SURE YOU READ THE WHOLE THREAD, THE INITIAL INFO IS INCORRECT, AND IS FIXED LATER ON IN THE THREAD*
SR20 EGR Removal thread -
B15 Sentra Forum
- Nissan Sentra Forum
Need Help with 100k ohm resistor for EGR? - SR20 Forum
Highport vaccum hose rerouting for deleting EGR
Thanks to Llprad's info from the other forum:
From the Haynes manual for reference on the corresponding numbered hoses:
Here's what you have in stock form:
... the "triangles" are where 3 hoses join each other via 3-way or through the gallery.
FYI, the "gallery" is the metal hoses all buched up together, connected to the BPT valve and the EGR tube,
Here's AFTER you've discarded, what to rehook and add:
Ive done it this way, and everything runs swell! Although now I have to turn the idle down a notch.
Line rerouting for lowport:
Original
Original
How to delete the egr without removing stuff
(visual inspection approved
)
"Dont bother with a block off kit. There is a hose going from the BPT to the EGR, just pull that off and plug it up on the BPT side. That will stop the EGR from opening and sucking air in through the pipe. You can just use a screw to do it.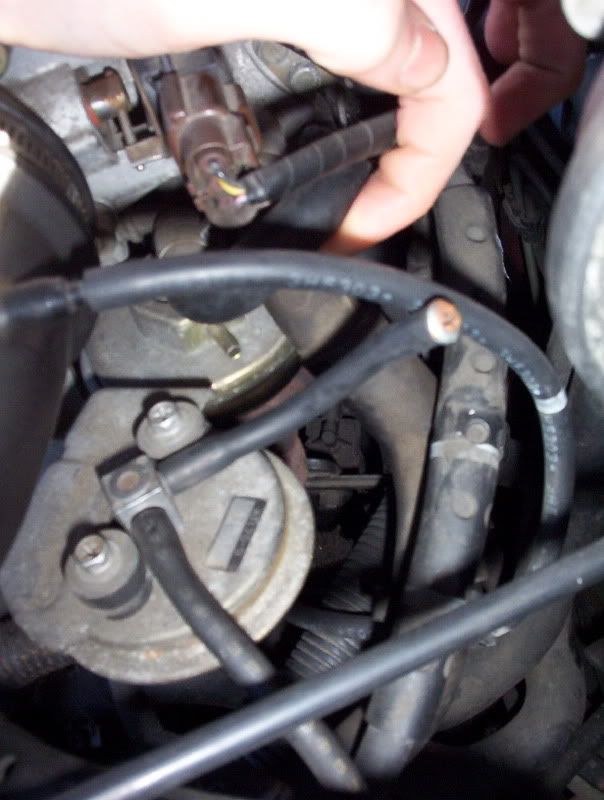 The one with the two lines going to it is the BPT which is what regulates the EGR. One of the tubes normally connects to the EGR, but as you see I disconnected the tube From The EGR and plugged it, leaving the EGR side open. Doing this basically stops the EGR from opening and drawing in any exhaust gasses... a very smart thing to do if you dont have the tube connected to the header.
How to reattach egr pipe when upgrading or replacing header:
Make sure when you put the exhaust manifold back on to NOT bolt it on first, attach the egr tube first, THEN bolt it to the head. The EGR tube is bent slightly and WILL NOT attach easily if you install to head first. The bolt size is an oddball one, most use Visegrips to take it off because of this:
Originally Posted by
canx2k
The item I'm speaking of is the pipe that comes off exhaust port #4. The size of it befuddles me.

I for the life of me can't figure this out. 7/8" is too small.
15/16" is too big.

22mm is too small
24mm is too big!

Is it just me or is this the dumbest thing ever made. I need a 29/32" or a 23mm wrench?! That's F'd. I tried a crescent wrench, and there isn't enough space to take it off. The same goes for the long tube at the bottom, below the o2 sensor spot. How am I supposed to get that *ish off there!?!
Does removing the EGR effect anything?
According to this thread and a reputable member on the forum:
http://www.sr20-forum.com/all-motor/14574-any-advantages-without-egr.html
Originally Posted by
Andreas
The only pro to removing the EGR is making the engine bay look cleaner.


With or without the EGR the car will make the same HP under full throttle.

The EGR only comes into play under normal cruising condition.
Also worth mentioning:
Originally Posted by
BRE92SER
no, it wont effect Air/fuel ratio, and it wont make the cat's life shorter. its sole purpose is to lower NOx by reducing combustion chamber temperatures by taking up physical space in the cylinder, meaning there is less burnable mixture in it (exhaust doesnt burn), therefore reducing the energy produced per cycle. by lower temperatures, we reduce NOx emmisions, which are produced when combustion temperatures get too high and begin oxidizing(burning) the near-inert nitrogen gas in the intake air. also, it doesnt shut off at mid-throttle, it's OPEN from light throttle (around 15% i think) to around 70% throttle. (Fedral emmsions standards dont currently take into account any values over 70% throttle opening). its closed at idle, otherwise the engine would idle poorly, if at all (hook a vacuum pump up to the valve at idle, you'll see what I mean), and it has a major effect on power, so its not open when power is demanded (70% - wide open throttle).
tags: egr delete plug aiv ssac header bung plate vaccum reroute line bpt valve
Last edited by BenFenner on 2020-06-12 at 18-13-00. Reason: Update two image URLs since the non-dash forum has lost the originals.